Class of Wauwatosa East 1981 20th Reunion is Only Days Away!

The reunion weekend is just around the corner and you'll be glad to hear that over 225 of your former high school classmates and their spouse/guests are going to be joining you at the Saturday evening event at Potawatomi Casino. The event begins at 6:00 PM and will go until the casino says the party is over! Just for your information, the average high school 20th reunion usually brings a total attendance of around 25% of the total class size. (including spouses/guests) We are at over 60% of our total class size (including spouses/guests). This means that we will certainly have a greater percentage of fun and fond memories!

Don't forget about the pre-reunion party being hosted at Bill Penzey's on Friday night. Many of us will be "borrowing the parents car" and heading over to Bill's around 8:00 PM. Please scroll on down this page to see more details and directions on getting there.

As a part of the evening's events we will be hosting a raffle to raise money for the Steve Marz Memorial Scholarship Fund. Steve and his wife Linda were tragically killed in a car accident while on their way to vacation with their children in Florida this past March. I have had an opportunity to speak with Steve's family over the past few months, and they are overwhelmed with our gesture of kindness and honored that we would do this on behalf of Steve.

Raffle tickets will be sold on Friday night and Saturday night with the

drawings to take place Saturday evening (winners need not be present).

Raffle prizes have been donated by many Wauwatosa businesses including The Chancery, Balistrarie's, Starbucks, Ultimate Confections Chocolates....and more. Other donations include a weekend package at the Hilton Hotel Milwaukee, a weekend package at the Pfister Hotel Milwaukee, Spice Crates from Penzey Spices, 2 tickets to the Packers vs. Washington Redskins on Monday Night September 24th, $25 American Express Gift Certificates, a DVD/CD Player...and more. Tickets will be $5.00 each or 6 for $25.00. Knowing that many of you are from out of town, we will allow the winners to select the prize of their choice.

Again, we are glad that so many of you will be attending the reunion.

Everyone looks forward to seeing you. And for those of you who can't make it, please stay in touch.

Gina Sutton

Check out Directions and Lodging Info Here:

Photos Needed: Some of our classmates have volunteered their services to put together a video of classmates "Then and Now". We plan to show the video on Saturday evening at Potawatomi and would like to have as many classmates represented as possible. So, please go to the Fun Photos Needed page of the website to get the details on how to submit. Everyone who submits photos will be included! Please note the deadline of our producers!
View the Missing Classmates list to see who we are still looking for. If you know the whereabouts of someone who's on the list, please send their mailing information in an e-mail to TosaEast81@Yahoo.com
Friday Night House Party
It is a tradition for everyone to gather the Friday night before the reunion at one of the State street bars. This year with the standing room only TosaFest crowds, we needed to come up with a new location. Luckily one of our class of 81 volunteered the perfect place right in Tosa. Bill Penzey has the house on the Menomonee River Parkway known as the Governor's Mansion. It has more room than anyone could imagine and was meant for hosting an informal event like this. You have got to see this place. After Bill called we held our last reunion committee meeting at the house and we all agreed this is the place for the entire class to be Friday night. For those of you not familiar with the Friday night get together, it is a great low key, no cost chance to catch up with your old schoolmates. Even if you are unable to attend the reunion you are welcome. Some beer and snacks will be provided. If you want to bring more beverages or something to eat it would be appreciated. Everyone will be there. See you around 8:00.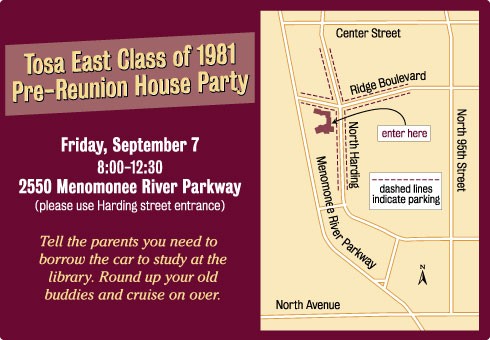 PS:

Our Tosa East Class of 1981 banner will be flying high on the Wauwatosa Savings and Loan building at TosaFest.

If you're there on Friday night as well, look for an old classmate and bring them on over to Bill's house.
Who's planning this event: There are a number of individuals planning this event on your behalf. If you have more specific questions that have not been answered on the website or in your invitation, please e-mail us at tosaeast81@yahoo.com. We will get back to you as quickly as possible.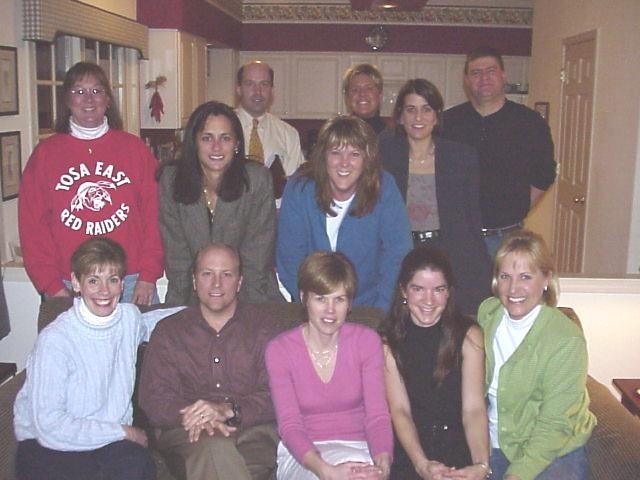 Again, our mission is to host an event for you! Everyone from the Wauwatosa East Class of 1981 is welcome. We look forward to seeing you this September.
View The Guestbook
Sign The Guestbook
This page was last updated on 08/29/01.